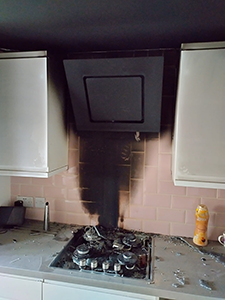 Cooking Safety
Cooking is one of the major causes of fires at home. In fact, in 2022 one in three accidental house fires because of cooking and cooking appliances.
Stop thinking, 'It won't happen', and start thinking, 'I won't let it happen'. 
Follow our cooking safety advice to stay safe in your kitchen at home.
General Cooking Safety
Avoid leaving children alone in the kitchen when cooking. Keep matches and saucepan handles well out of reach to keep them safe
Take care if you need to leave the kitchen while cooking. Take pans off the heat or turn them down
Make sure saucepan handles don't stick out – so they don't get knocked off the stove
Take care if you're wearing loose clothing – this can easily catch fire
Keep tea towels and cloths away from the cooker and hob
Double check the cooker is off when you've finished cooking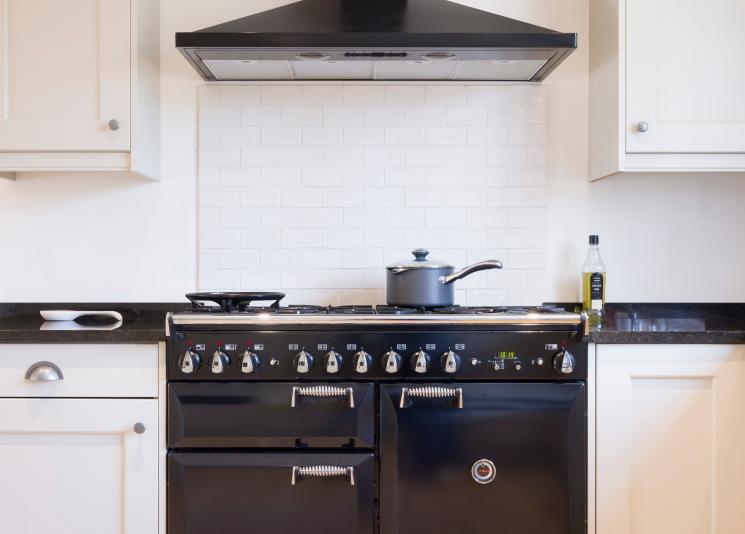 Advice for staying safe when using refillable lighters:
Advice for staying safe when using refillable lighters:
Never smoke while re-fuelling your refillable lighter
Always refill your lighter in an open or well-ventilated space with sufficient air circulation
Keep all butane containers away from any source of heat, spark, or direct sunlight
Cool down the lighter to room temperature before refilling
Keep it away from skin or clothes
Any clothing that has come in contact with butane should be washed thoroughly
Read and understand refilling instruction before refuelling your lighter
Cooking with Electricals
Keep electric leads and appliances away from water and unplug them when you're finished to avoid pets and children accidentally switching them on
Check toasters are clean and placed well away from curtains, kitchen roll and any other flammable items
Keep the microwave, oven, hob and grill clean and in good working order. A build-up of fat and grease can ignite a fire
Place slow cookers on flat, heat-proof, stable surfaces and make sure there's enough liquid so it doesn't burn dry.
Don't plug air fryers into extension leads and don't overfill them
Be careful when buying secondhand - get the appliance checked over if you can. As a minimum check the wires and don't use the appliance if it smells funny when it's switched on - older appliances often don't meet modern electrical safety regulations
Don't ignore your electric or fuse tripping. Tripping electric is a warning sign - work out what caused it to trip and get it checked out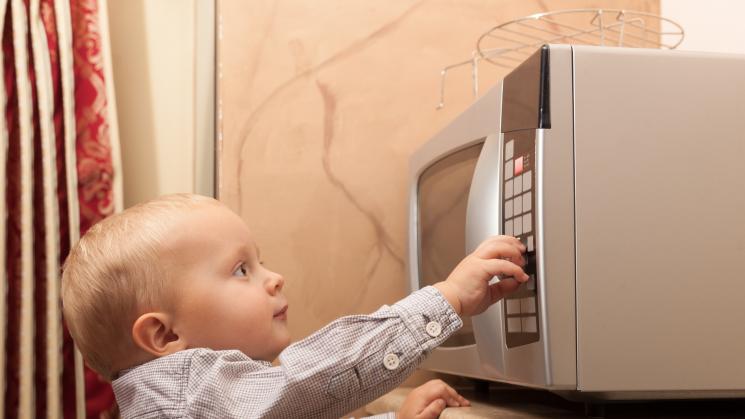 Deep Fat Fryers
Take care when cooking with hot oil – it sets alight easily
Make sure food is dry before putting it in hot oil so it doesn't splash
If the oil starts to smoke, it's too hot.  Turn off the heat and leave it to cool
Use a thermostat controlled electric deep fat fryer where possible. They can't overheat
If your pan catches fire, turn off the heat if it is safe to do so and never throw water over it
This video shows why you should never try to extinguish a chip pan fire or grease fire with water. This is what happens when just an egg cup full of water is added. Remember this is slow motion too - the explosion is instant.
Cooking Outdoors
Avoid drinking too much alcohol if you are in charge of the barbecue, pizza oven or any cooking
Keep a bucket of water, sand or a garden hose nearby for emergencies
Follow the safety instructions provided with disposable barbecues and make sure it's lifted off anything flammable like decking
Never use a barbecue or pizza oven indoors
Only use recognised lighters or starter fuels to light your barbecue or pizza oven - never use petrol or paraffin
Never leave your cooking unattended
Make sure you're wearing the right clothing to avoid burns - wear heat protective gloves and don't wear anything loose
Make sure your barbecue or pizza oven is well away from sheds, fences, trees, shrubs or garden waste
Allow ashes to cool and empty them onto bare garden soil, not into dustbins or wheelie bins. Hot ash can melt plastic and cause a fire