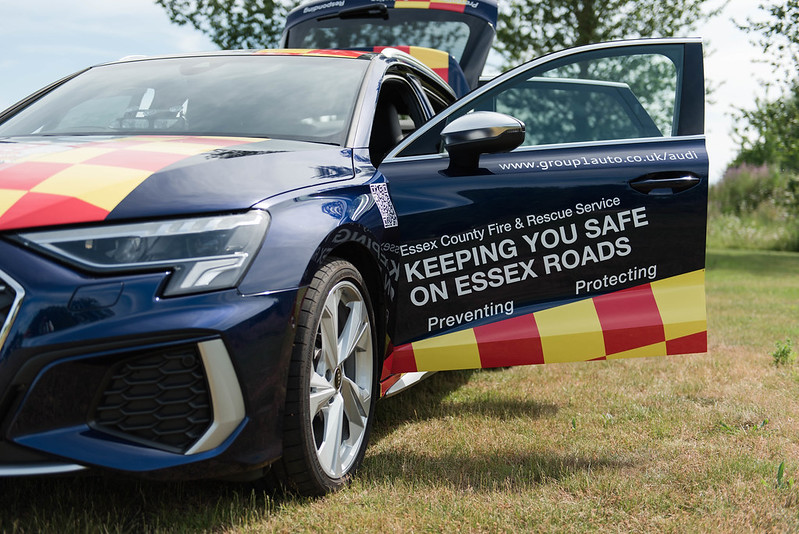 Road Safety
Essex County Fire and Rescue Service is regularly called out to deal with the aftermath of road traffic collisions, but we want to help prevent those collisions from happening in the first place. In the majority of cases, death and injury can be prevented and we're committed reducing the number of people killed or seriously injured on the roads of Essex through better education, awareness and responsibility amongst all road users.
In 2007, 1065 people were killed or seriously injured on the roads in Essex. By 2017, this fell by 19% to 855. Although this is a great success, the number of people killed or seriously injured on our roads remains very high.
On this page you'll find our specific safety tips for bikers, cyclists and drivers and the partnerships we work with to make our roads safer.
Our top tips in road safety
Adapt your driving to the weather conditions, if it is icy, there is snow or heavy rain, reduce your speed
Adapt your driving to the conditions of the road.
Drivers should remain alert and aware of cyclists and pedestrians at all times
Keep lights, mirrors and windows clean and clear of obstructions
Make sure your windscreen wipers are working properly and you have a plenty of screen wash
Ensure your tyres have enough tread and the pressure is correct
Always wear a seatbelt
Never use a hand-held mobile phone while driving
Do not drive too close to the vehicle in front. Remain at a safe distance
Do not speed
If you feel tired whilst driving pull over at your next available stop and rest before continuing your journey
These are the four main causes of KSI (killed or seriously injured) on our roads in the UK.
The Fatal 4 are:
1. Inappropriate speed
Even the difference of a few miles per hour can mean the difference between life and death. The speed limit is not a target, you should drive at a speed that suits the conditions and the type of road. For example, if it's foggy or raining, if you're driving near a school or in a town centre, then driving at the speed limit could be too fast.
Make sure that you're driving at a safe speed at all times, and never exceed the speed limit.
2. Using a mobile phone
You can get 6 penalty points and a £200 fine if you use a hand-held phone when driving - making calls, texting, reading posts, playing games, taking photos, anything. You'll also lose your licence if you passed your driving test in the last 2 years. The law still applies to you if you're stopped at traffic lights or queuing in traffic.
What about hands free? Even though hands-free kits are legal, it is also worth knowing that tests have shown people using these kits can be as distracted as if they were driving drunk. Don't use one.
3. Not wearing a seatbelt
You're twice as likely to die in a crash if you don't wear a seatbelt. So...make sure you and your passengers are wearing a seatbelt or secured in a car seat. Children should use a child car seat until they're 12 years old or 135 centimetres tall, whichever comes first. Children over 12 or more than 135cm tall must wear a seat belt.
4. Drink/drug driving
When you drink, it takes longer for your brain to receive messages from your eye, and processing information becomes more difficult. All of these can significantly impact your driving.
Keep your vehicle safe
Check fuel line for wear and tear, loose or worn connections cause safety problems
Check tread, pressure, damage of tyres (look out for embedded nails or glass etc)
Radiator - check fluid levels and top up if required
Oil - check fluid levels and top up if required
Lights should be functioning and clean
Your vehicle is your responsibility - windscreen wipers, child seats and seatbelts should also be checked regularly
Breakdown advice 
Every year there are more than 85,000 breakdowns, so knowing what to do in an emergency or breakdown is crucial for keeping yourself and others safe. 
See further information on what to do in the case of a breakdown on the Highway Code website.
Car seats
It's a worrying statistic, but recent surveys in the UK found that as many as 80% of children's car seats aren't fitted correctly. If properly restrained, children are 90% less likely to be killed in a collision.
You can get more advice from The Good Egg Guide to In-Car Child Safety by visiting Road Safety GB's website.
Our top tips for keeping your family safe are:
Find out what seats are most suitable for your vehicle
Only buy a seat that carries the United Nations ECE R44.04 safety mark
Make sure your retailer has trained members of staff who can fit and check your seat
Always follow the manufacturer's instructions