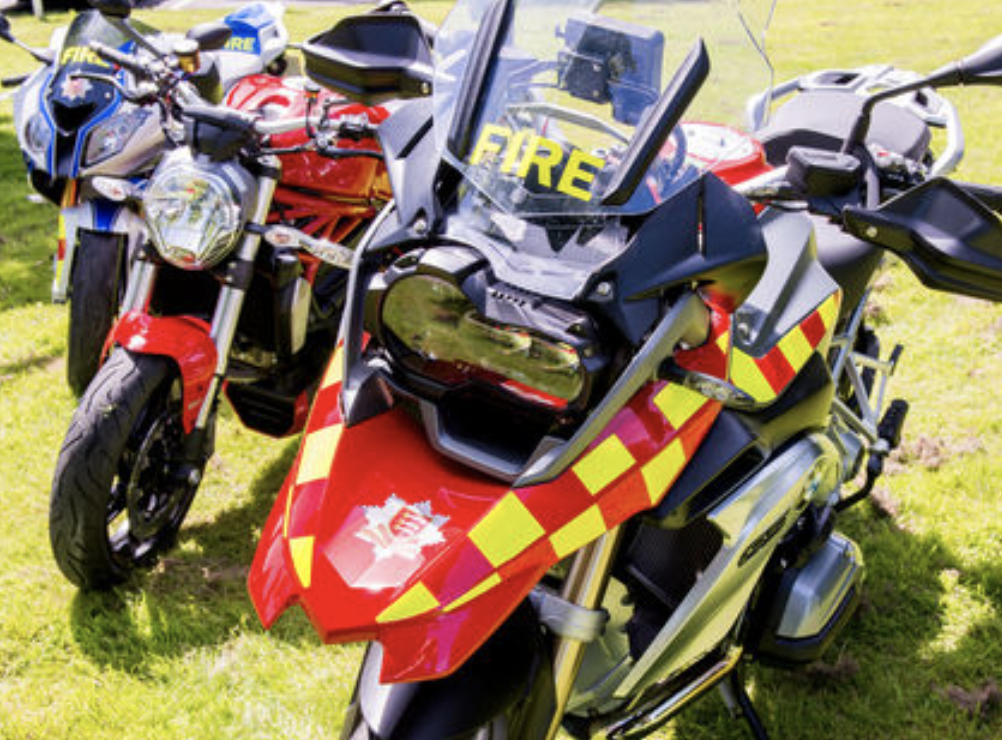 FireBike
FireBike is our specific motorcycle safety initiative through which we engage positively with Essex's motorcyclists on a range of safety and related issues. FireBike promotes safer riding, encourages further/advanced rider training and seeks to reduce the number of motorcycling casualties in Essex.
Our FireBike riders are all Royal Society for the Prevention of Accidents (RoSPA) Gold advanced motorcyclists and qualified RoSPA advanced riding instructors. As keen motorcycle enthusiasts themselves, the team engages with riders at motorcycle events and venues throughout Essex. They also run advanced machine skills courses and provide on-road training and assessments to help bikers improve their skills.
Our key FireBike messages are:
Become a better rider
Train as if your life depends on it
Protect yourself and your pillion
Learn to share the road
Encouraging motorcyclists to improve their skills is an important component of FireBike and enhancing rider skills is key to reducing people killed or seriously injured in motorcycle collisions in the longer term.
Could you benefit from a free Better Biking course?
We offer free Better Biking courses to motorcyclists in Essex.
During a half day course we'll give advice, guidance and assessed ride feedback to help improve your existing road riding skills.
An initial classroom session is followed by an assessed ride where the FireBike team will provide practical advice and guidance on your riding, highlighting strong points and suggesting areas where improvements can be made through practice.
You'll be given tailored feedback on topics about observation, hazard perception: gear selection and overtaking.
How much do they cost?
The FireBike Better Biking courses are being offered free of charge.
What do I get?
At the end of the course you'll get immediate feedback from the FireBike team member.
You will be presented with a certificate of attendance and a 'goody bag'.
A concise written feedback report will be sent to you shortly after the course.
Feedback from previous course participants has been universally positive:
"What the course meant to me... IT SAVED MY LIFE! What you taught me literally saved my life. Thank you. I'm so glad I've done this course."
"Very informative. I learnt so much in a short time. I advise everyone to take this course."
"Thank you for the course today. Me and my son both went away with something. Keep up the good work!"
"As a beginner to advanced riding techniques I found this a real eye-opener. Thanks for all the constructive advice."
How do I book?
Email Firebike@essex-fire.gov.uk with  the following information:
Name
Contact number
Email address
Home address
Bike make, model and registration number
We will email you back with further course details and available dates
Upcoming courses:
May 2023 

6 May 

13 May 

14 May 

20 May 

29 May

June 2023 

3 June 

4 June 

10 June 

18 June 

24 June

July 2023 

1 July 

2 July 

16 July 

23 July 

29 July

 

 

 

August 2023 

5 August 

6 August 

13 August 

20 August 

27 August

September 2023 

3 September 

10 September 

23 September 

30 September

October 2023 

8 October 

15 October 

22 October 

29 October

 

 

 

November 2022 

5 November 

12 November