Advice for scrap yard owners following two serious fires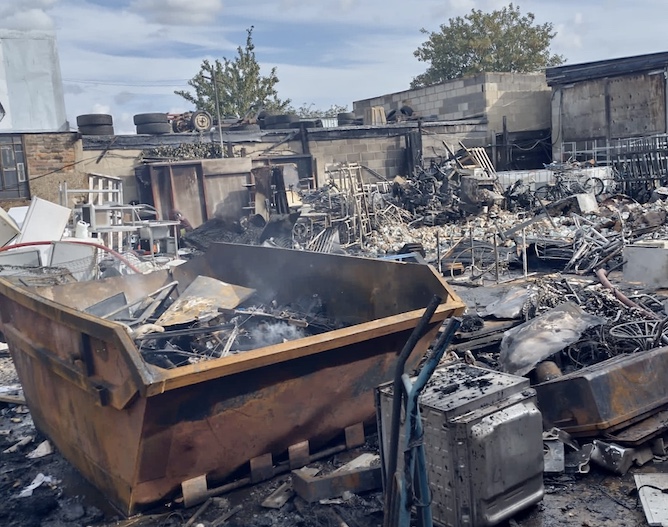 Essex County Fire and Rescue Service has issued a safety warning to scrap yard and storage yard owners following a spate of serious fires in Essex last month.
The fire service were called to a huge blaze in Purveys Way, Rochford on Friday 11 August which at the height of the fire needed over 70 firefighters from all over Essex to extinguish. The second fire started on Sunday 13 August in Dock Road, Tilbury which destroyed a large area used for storing scrap metal and recycled fridges.
Despite thorough fire investigations, the causes of the fires were not found, but the fire service has issued advice to all storage yard owners to help keep their businesses safe.
Business Engagement Officer, Alison Loades said: "These fires can be very dangerous and require a lot of our resources to extinguish. 
"Scrap yards and storage yards are particularly more vulnerable to fire because of the collection of flammable materials held on site. 
"Large fires like these can devastate a business, so we want to make sure business owners do everything they can to prevent fires occurring."
 Our top tips to help scrap yard and storage yard owners reduce the risk of fires:
Make sure you have a suitable Fire Risk Assessment

Restrict height of waste materials stacks and maintain appropriate separation distances or firebreaks

Maintain a good basic housekeeping, limit dust and material buildup that could act as fuel

Isolate hazardous work such as shredding

Install appropriate fire detection systems such as smoke, heat detectors or CCTV visual flame detection systems

Where appropriate, install and maintain a fire suppression system

Install and maintain appropriate firefighting equipment

Ensure an adequate water supply is in place for firefighting

Ensure high security and install CCTV on site to help stop deliberate fires

Have appropriate emergency evacuation plans and ensure all your staff are aware
Alison adds: "As well as making sure your premises are fire safe, it is also important that all your staff are trained to recognise and respond to potential hazards and emergencies. This training should be refreshed regularly to ensure everyone knows what to do to keep safe and in case of an emergency."