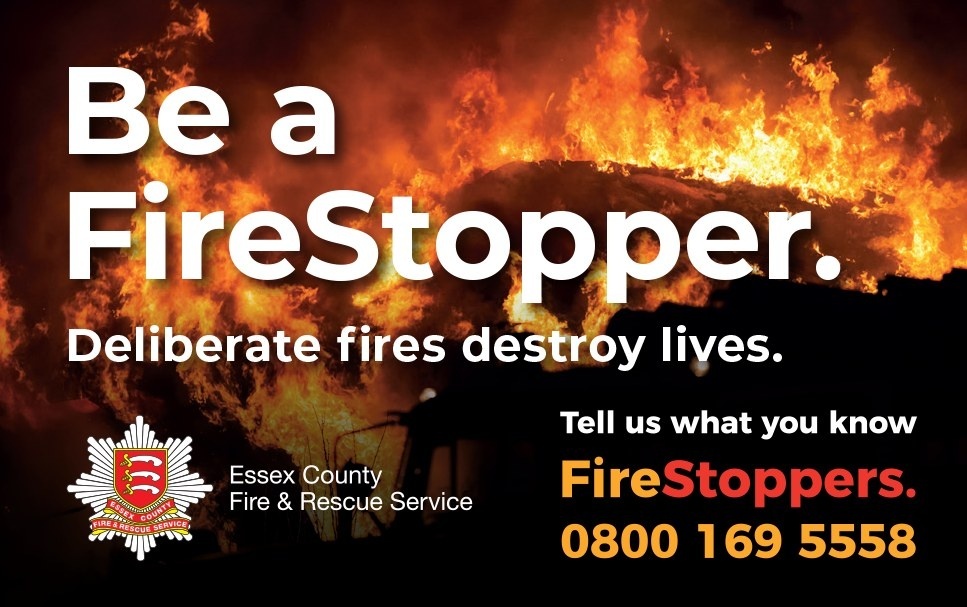 FireStoppers
Do you have you any information about deliberate fires in your area?
Even small outdoor fires can be dangerous and they place additional stress on our limited resources – dealing with a nuisance fire affects our ability to respond to more serious incidents like house fires or road traffic collisions.
To help us prevent these fires from happening and to keep everyone who lives, works and travels in Essex safe, we have teamed up with the independent charity FireStoppers.   
If you have information regarding a deliberate fire, you can tell us what you know, 100% anonymously. We are interested in what you know, not your identity.
Call: 0800 169 5558
100% anonymous, 100% of the time
FireStoppers gives you a way to report what you know about deliberate fire setting, 100% anonymously. The service is managed by the independent charity Crimestoppers, who don't see your phone number or IP address when you contact them (these details are scrambled), and they remove all details that could be used to identify the person who has contacted them before passing the report to be investigated.
Fire Stoppers is prevention rather than reaction   
We all have an important role to play to keep our communities safer.    
If we can reduce deliberate fires from occurring, using our protection and prevention interventions; rather than responding with a fire appliance, then FireStoppers has been a success; and it certainly will benefit our communities and keep them safer.  
With FireStoppers, we want you to report information that could prevent a fire from occurring; it is all anonymous. It is not for reporting any blame, it is for us to prevent the fires from happening.  
You can call FireStoppers 100% anonymously on 0800 169 5558.