Incident
Two flats completely destroyed after serious fire
Two flats have been completely destroyed after a serious fire in Buckhurst Hill yesterday (Sunday 21 May).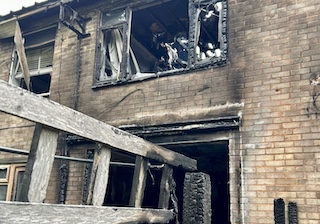 Firefighters were alerted by neighbours to a fire in the garden and was spread into the property which consisted of four flats (two ground floor and two first floor).
When firefighters arrived they reported the fire was well developed and was affecting one ground floor flat, one first floor flat and the roof space.
Essex firefighters were joined by two crews from London Fire Brigade to tackle the fire, which was on the border of Essex and London.
Crew Manager Stephen Gill, Loughton Fire Station said:
"This was a really challenging incident, where our firefighters had to work exceptionally hard to tackle the fire and stop it spreading to the neighbouring properties.
"We had four fire engines and our aerial ladder platform (a type of fire engine with a large ladder platform which we use to get up high and pour water on a fire from above) at the incident.
"The cause of the fire was found to be smouldering coals, which had been used in a fire pit in the garden the night before. The coals had been tipped out and left on the ground right next to the conservatory. The coals, which were not completely cooled, then caught the conservatory alight.
"Incidents like this show how important it is to ensure your coals/wood or anything used in a fire pit or barbecue are completely cool before you move or dispose of them. It could take up to 48 hours for ash/coals to be completely cool, but you can speed it up by pouring water over them and completely submerging them.
"I want to encourage everyone who has a fire pit or chiminea at home to follow our simple safety tips to avoid a fire like this:
Place your firepit away from your property, sheds, fences, trees, decking or anything that could catch alight
Before you light your fire make sure you have a way to put it out at hand, keep a bucket of water, sand or garden hose nearby just in case
When burning anything in your garden please consider the effect the smoke may have on you neighbours
Never use chemicals such as petrol to start your fire
Never leave any fire unattended, whether it is a barbecue, firepit or in a chiminea
Fire and alcohol don't mix. Don't drink too much alcohol if you are in charge of the fire
Make sure your firepit is fully extinguished before you go to bed.
"I'd like to add my thanks to my crews and our colleagues from London Fire Brigade, who fought really hard to minimise the damage as much as we could."