Incident
Firefighters tackle two fires at same location
Firefighters have spent the night tackling a fire in Doddinghurst.
We were first called to multiple vehicles on fire in Warren Lane, Doddinghurst at 6:03pm.
A crew from Brentwood Fire Station attended and on arrival, reported that two cars were on fire and a further four were burnt out.
Firefighters extinguished the fire by 6:51pm.
Crews were then called back to the scene at 10:20pm to reports that an outbuilding was on fire.
Six crews were sent to the scene where an outbuilding measuring 20 metres by 10 metres and containing straw was on fire.
A Water Bowser from Corringham was requested due to a limited water supply and an Incident Command Unit from Witham was requested.
Firefighters surrounded the building to prevent the fire spreading further and to protect nearby farm machinery.
Crews remained throughout the night to extinguish the fire in sections and to monitor hotspots.
The incident was scaled down throughout the night as crews made steady progress to extinguish the fire and the last crew left the scene at 10:54am.
The outbuilding has been left severely fire and smoke damaged and six vehicles were destroyed.
An investigation into the cause of the fire is currently being carried out.
Update 5pm
An investigation found that both fires were deliberate fires.
Location
Warren Lane, Doddinghurst
Date
10.20pm - 24 April 2023
Be a FireStopper
Do you know who is responsible for these fires?
Deliberate fires like this are dangers – they put lives at risk and also tie up our time when we might be needed for a more serious emergency somewhere else.
Please help us stop these happening.
Tell us what you know – it's 100% anonymous. We're not interested in who you are – just what you know.
Call: 0800 169 5558
Or online: https://forms.theiline.co.uk/firestoppers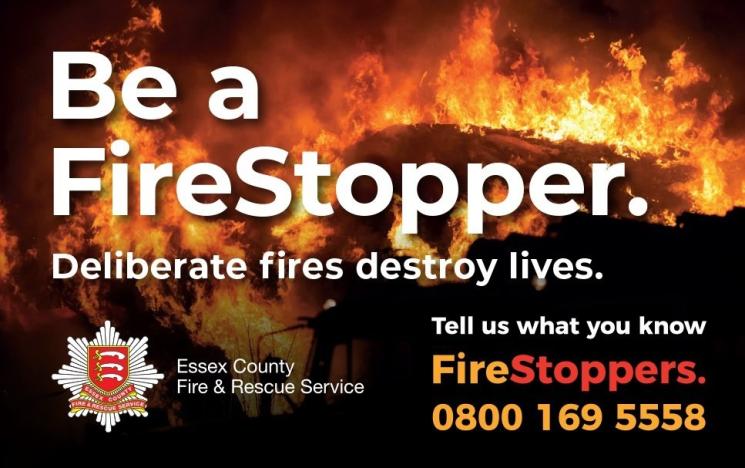 Could you be an on-call firefighter?
Many of the firefighters who attended this incident are on-call firefighters; people who live or work within 5 minutes of their station and are paid to protect their community.
If you live or work within 5 minutes of an on-call fire station, you could be an on-call firefighter too. 
Find out more about the role and how to apply at join.essex-fire.gov.uk/on-call.