Top 5 tips to keep your office fire safe this Christmas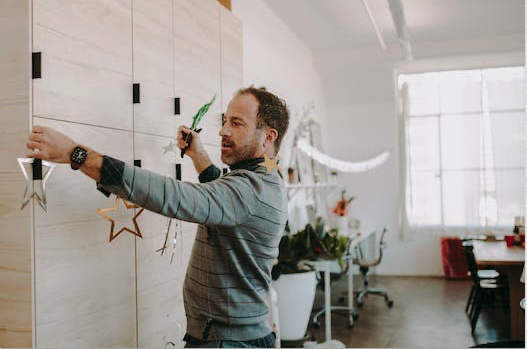 With Christmas fast approaching many of you will be bringing a festive sparkle to your offices. Decorations, ornaments, lights and Christmas trees will brighten up your usually dull offices, but you must consider fire safety at every step of your festive spruce!
Business Fire Safety Advisor Gary Edgcombe said:  "We want you enjoy all the fun and festivities at Christmas with your colleagues, so we have produced some simple guidelines for you to consider when decorating your offices and workplace:
Christmas Trees
If you're having a real Christmas tree this year, the key for keeping the fire risk down is water! A dry Christmas tree can go up in flames, destroying furniture, walls and carpets in less than one minute. Here is a shocking video to show how quick a Christmas tree can go up in flames:
The best way to avoid this is by making sure you water the office tree every day. Keeping it watered means that the flames won't catch fire as easily or fast. Being mindful of any candles, naked flames or electric output close to the tree is a great way to be fire safety savvy too.
Decorations
When putting decorations up at work it can be tempting to go all out and decorate anything and everything in sight. Along with the tree, fairy lights and tinsel on your desk many people are also tempted to hang decorations from overhanging lights in the office or around lamps. While this might look great, Christmas decorations are usually very flammable, so when overhanging lights heat up, this heat can cause decorations to set alight, which is why it is best to avoid decorating these areas.
Turn everything off when you leave
It is so easy to forget to turn the Christmas lights off when you leave the office, however, there is a chance that your lights or singing Santa figure could overheat and start a devastating fire. Remembering to switch plugs and switches off when you leave is a small step that can make a big difference.
Testing your smoke alarms
Preventing dangerous situations from happening is an important step towards fire safety in the workplace, but in case something does go wrong, you also need to have the correct procedures in place. Testing your smoke alarms should be done all year round and when there are more hazardous and flammable objects in the office around Christmas, this is especially important. 
Keep corridors and exits clear
It's important to keep all walkways completely clear so when you're deciding where to put your Christmas decorations, trees or giant reindeers you must make sure they don't obstruct corridors, fire exits and doorways. This means that in case of an emergency, everyone can move around freely and get out of the building if they need to.
Essex County Fire and Rescue Service is committed to working with the business community to reduce the number of deliberate and accidental fires in commercial premises across Essex.
Protect your business from the risk of fire. Visit www.essex-fire.gov.uk/business for guidance on risk assessments and your legal duties.
Is your workplace compliant?
If you're the responsible person within a premises, then you need to be aware of your duties in line with relevant legislation to ensure people are safe in your premises. We have information relating to the Building Safety Act 2022, Fire Safety Act 2021, the Fire Safety (England) Regulations 2022 and the Regulatory Reform (Fire Safety) Order 2005 – what's often known as the 'Fire Safety Order'.