Rayleigh Fire Station hosts Christmas lunch for local residents and volunteers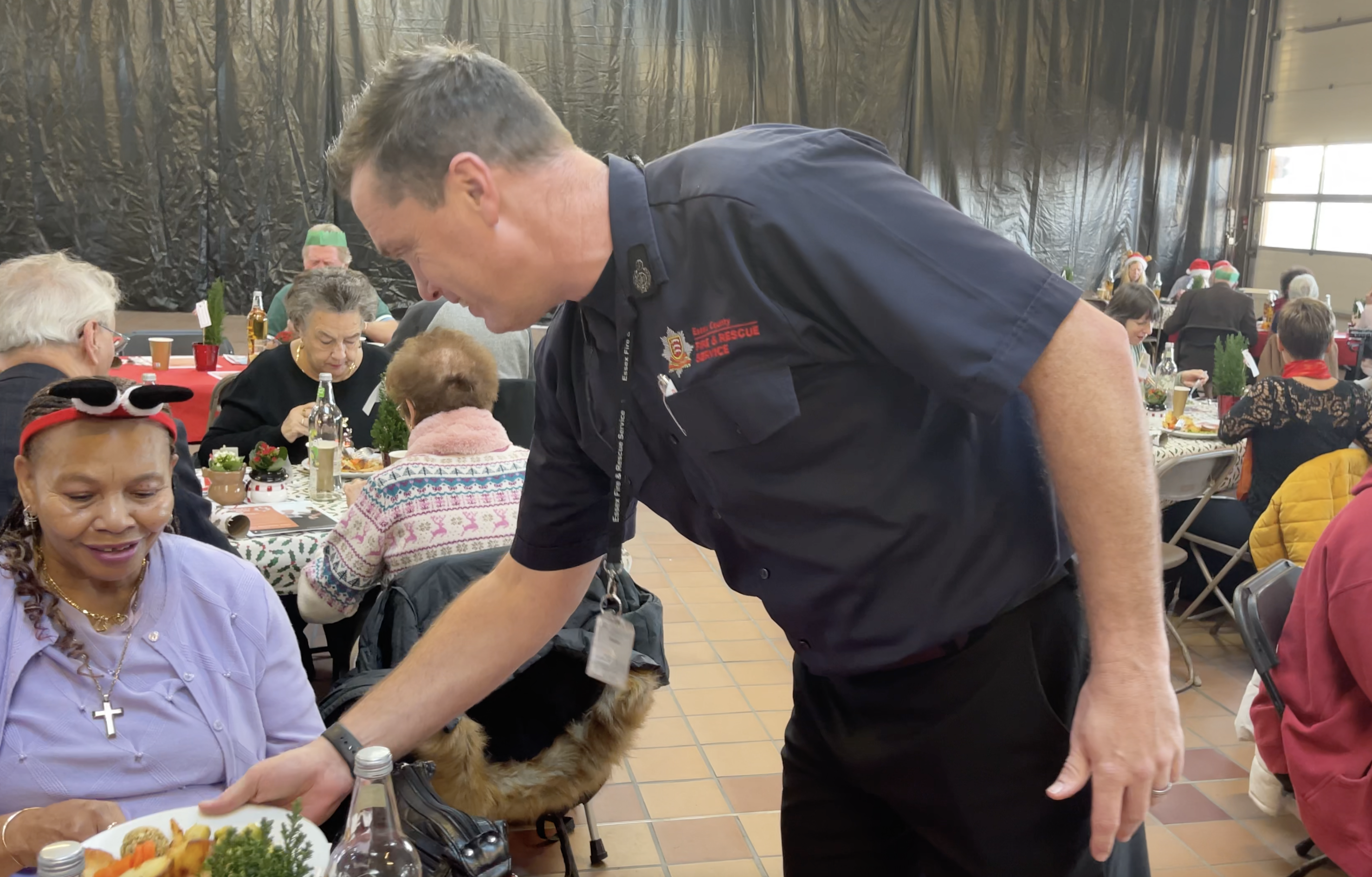 More than 80 residents in Castle Point were welcomed to Rayleigh Fire Station for a Christmas lunch supplied by Sainsbury's in Rayleigh Weir on Thursday. 
Working with the Castle Point Association for Voluntary Services (CAVS), Station Manager Al Green and Watch Manager Kevin Colby from Rayleigh Fire Station organised a Christmas lunch on Thursday 8 December in the fire station's bay. 
All of the food was supplied by Sainsbury's in Rayleigh Weir and the team also provided several members of staff to cook and serve the food at Rayleigh Fire Station for all of the guests from the Castle Point area. 
Station Manager Al Green from Rayleigh Fire Station said: "This was a really lovely event and we were honoured to be involved. I'm so grateful for CAVS and Sainsbury's for helping us to make our dreams to host a Christmas lunch for our residents a reality. I'd like to say a big thank you to everyone involved in the run up to and on the day, especially to our lovely cleaner Fay Hilton from Monthind. After finishing her shift in the morning, Fay stayed for several hours to help us serve the food and clean up in her own time.
"It was a really heartwarming afternoon and everyone from the residents to our staff was pleased to be involved. It was great for our team to open up our doors to our community to give them somewhere warm to socialise, a hot meal and some safety advice. I'm proud of the whole team for making it happen. We hope to do it again next year.
"It was sad to hear from some of the residents who have been struggling with loneliness and with energy bills this winter and I'm glad were able to give them some respite, even if only for a day. I had one lady hug me to say thank you and she told me that if she hadn't have come to the meal, she wouldn't have had anyone to talk to that day. Another man told me he had no heating at home and it was nice to be somewhere warm."
Janis Gibson, Chief Executive of CAVS said: "It was so very generous of Al Green and his team to host such a lovely event for so many local residents within Rayleigh Fire Station. The freshly cooked turkey meal and all the trimmings was much appreciated by the guests.  Sainsbury's provided the food, and their team also assisted the firefighters to mingle and host what was an inviting, warm and friendly time for all.  We know what a wonderful job the firefighters do to try and keep us all safe and I'd like to say a huge thank you to them for their continued dedication to the service they provide."
Essex County Fire and Rescue Service works to make Essex a safer place to live work and travel. The Service offers free home fire safety advice to all Essex residents and can visit your home to offer tailored fire safety advice as well as fitting smoke alarms if you need them. 
Visit www.essex-fire.gov.uk/book for more information or call 0300 303 0088 to speak to the Home Fire Safety Team.