Old fire hoses given a new lease of life at Colchester Zoo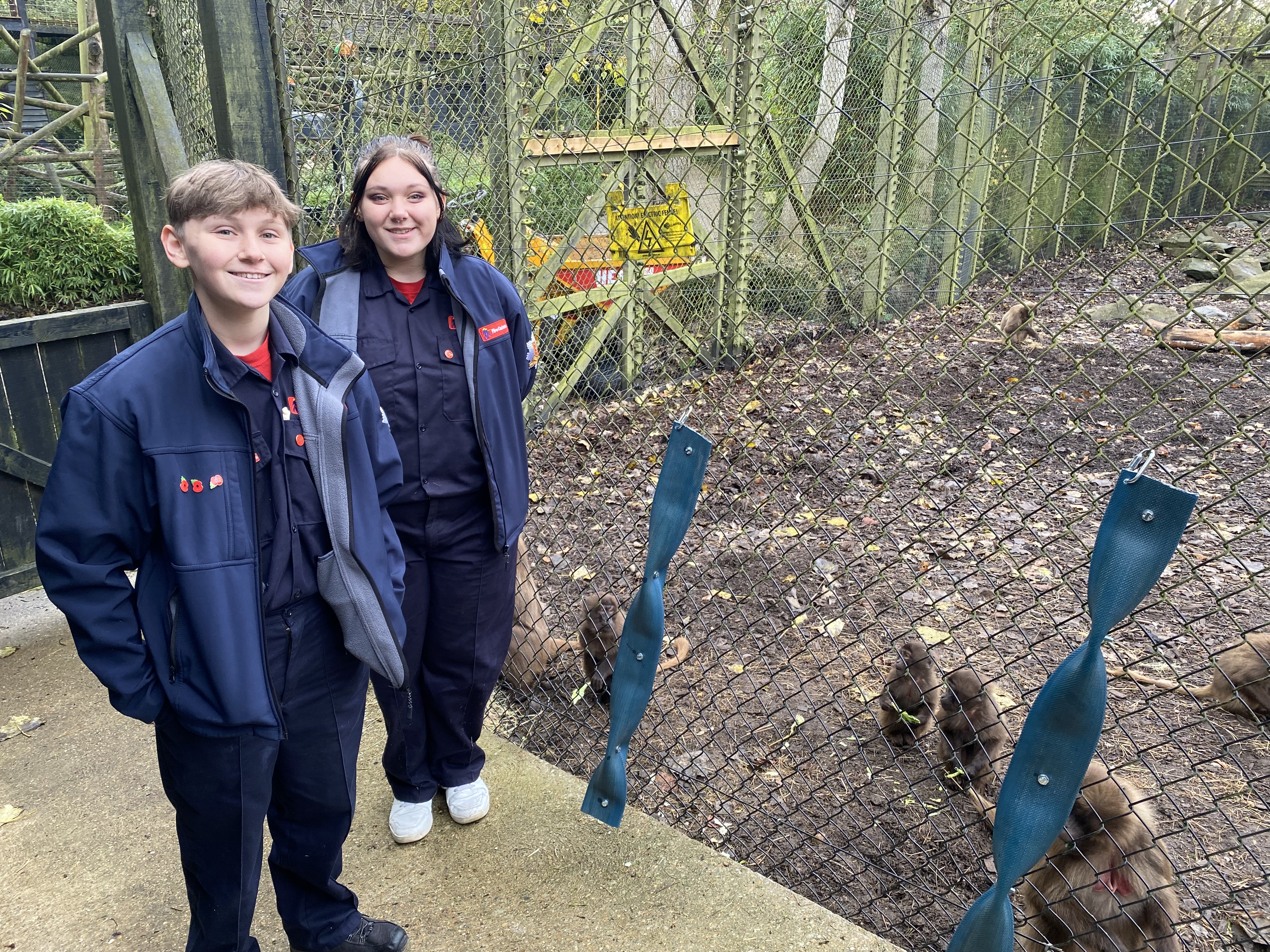 For the last 15 years, Essex County Fire and Rescue Service has been donating its old fire hoses to Colchester Zoo to be recycled into toys, hammocks and feeding tools for the animals.
From monkeys to elephants, rhinos and otters, many of the animals at Colchester Zoo enjoy playing with the hoses in one form or another! Almost every enclosure has some form of hose in there. The zoo's team have made a range of different toys, hammocks and swings over the years. 
Last week, two fire cadets from Dovercourt Fire Station learned more about how old fire hose can be re-used at the zoo. The pair helped to make a series of enrichment toys for Gelada Baboons. 
Jorje and Zak got to work making a variety of puzzle feeders from a 25 metre hose reel. 
The team then hung the toys in the baboon enclosure and watched the Gelada Baboons monkeying around with their new toys. 
Fire Cadet Jorje said: "The animals really enjoyed the toys and it was great to see them all excited. You can use our old hoses to make toys for any animal here really. You can make literally anything like benches, hammocks, walls etc. 
"Next time you're at Colchester Zoo, try and keep an eye out for our little fire hose toys.
Fire Cadet Zak said: "It's been really fun and something I've never really done before. We'll take our learning back to our cadet unit and hopefully we can all make some more toys from old fire hoses to donate to the zoo."
Kelly Hand, Visitor Experience Host Co-Ordinator said: "Over the years, we've developed a great relationship with Essex County Fire and Rescue Service, they've donated many reels of fire hose which as a zoo we've been able to give a second life to. Not only is this a great form of recycling but also the secondary use is we can give our animals different forms of enrichment made from the fire hose. It's a great durable material which even our elephants find hard to break."
Fire hoses are usually sent to landfill after they've come to the end of their working life. Essex County Fire and Rescue Services donates most of its old fire hoses to Colchester Zoo in an effort to support a local business and reduce its carbon footprint.
David Rogers, Supplies Officer at Essex County Fire and Rescue Service has been delivering fire hoses to the zoo for around 15 years. 
He said: "It's great to see the fire hoses repurposed for a good cause and I've always been surprised at how many different ways the zoo uses it. It would be a real shame to see fire hoses going to landfill after serving such a good purpose saving lives and putting out fires in Essex. 
"They're made of pretty tough stuff so they last years at the zoo before the animals can get through them and it's great to see how creative the zoo team has been in making as many different things as they can. It's nice walking around the zoo and seeing all the red and blue hoses fashioned into toys, swings and even hammocks. We'll keep donating our hose for as long as the zoo needs it."
Jorje and Zak have been fire cadets for the last three years. The Service's cadet programme is a nationally recognised three-year programme run across six fire stations in Essex. Fire Cadets aged 13-18-years-old complete a 40 week course - an evening a week - where they learn how the Fire Service helps to make Essex safer. 
The Service has 18 Fire Cadets Units at Clacton, Dovercourt, Great Baddow, Harlow, Orsett and Southend. 
Fire Cadets will have the opportunity to take part in a variety of operational fire service activities aligned to the National Fire Cadet Award. These include hose running, ladder pitching, pumping, breathing apparatus, search and rescue, first aid, control room procedures, science of fire and much more.
Dovercourt Fire Station is recruiting Fire Cadets. Find out more about the role and how to apply at essex-fire.gov.uk/cadets
Cadets Zak and Jorge turn fire hoses into feeders for baboons and other animals at Colchester Zoo
Watch Fire Cadets Zak and Jorje create puzzle feeders for Gelada Baboons at Colchester Zoo from old fire hoses.