MBE honour for Essex County Fire and Rescue Service' Terry Jewell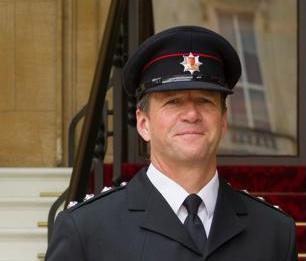 Station Manager Terry Jewell from Essex County Fire and Rescue Service (ECFRS) has been awarded an MBE by His Majesty The King in the New Year 2023 Honours list. 
Terry, who recently completed 30 years' service with the fire service, has been awarded an MBE (Member of the British Empire) for his Services to International Search and Rescue announced today (Saturday 31 December 2022). 
As well as being a dedicated member of Essex County Fire and Rescue Service, Terry has also been a member of UKISAR (United Kingdom's International Search and Rescue) team for 30 years, making him the UK's longest serving member. The UKISAR team is made up of volunteers from 15 fire and rescue services around the UK who have specialist training and skills to respond to natural disasters oversees on behalf of the UK Government and people. 
Station Manager Terry Jewell said:  
"I feel deeply honoured and humbled to receive an MBE from His Majesty The King in his first New Year Honours list. 
"Although my name is on the award, for which I am truly grateful for, I actually feel like I should accept this award on the behalf of all my team members from UKISAR and colleagues at ECFRS. Everything I do is part of a team effort, we all play a role, and I have been honoured to do my part.  
"My biggest thank you is to my wife of 34 years, Tanya. Over the years she has been my biggest supporter, and has had to put up with a lot, especially when I get deployed and disappear overseas at a moment's notice with no idea when I will get back." 
During his time with UKISAR, Terry has been deployed to deal with the aftermath of earthquakes in Indonesia, Haiti, New Zealand and Nepal. After working for two weeks solid, representing the UK to support rescue operations in New Zealand, he continued to save life even on the flight home. A passenger suffered a serious medical episode during this flight and along with the team doctor, Terry's resourcefulness and quick actions were vital in saving the life of the passenger. In recognition of taking control and his lifesaving actions, Terry received a personal letter of thanks from the airlines CEO.   
Terry's drive and passion in this field saw his career develop from team member to team medic to head up the team as Team Coordinator. Having retired from operational service earlier this year, he now supports the team and new coordinator as his deputy. 
UKISAR comes under the United Nations (UN) International Search and Rescue Advisory Group (INSARAG) and was the first team in the world to pass and gain their prestigious Heavy Rescue Team classification. Terry has played an important role in ensuring that UKISAR has continued to retain this classification every 5 years since.   
Chief Fire Officer & Chief Executive, Rick Hylton said: 
"We are extremely proud to see Terry's work has been honoured by His Majesty the King with the award of MBE. Terry's professionalism, knowledge and guidance to our fire service and the UKISAR team over the years has been extremely valuable and has influenced many developments and improvements at national and international level. Terry's personal dedication to the UKISAR team is outstanding. The role is completely voluntary and at times can take him away from his home and family for weeks at a time, often at very short notice. 
"During his career he has supported many countries in immensely difficult situations and led specialist teams to help save lives and support people at their time of need.  
"The UKISAR team is seen as one of the best in the world, and as a highly respected member of the team, Terry's expert status means he is called upon to support other countries improve their own skills, knowledge and capabilities in this specialist and complex field of work.  
"Terry is a friend, a peer and a mentor, and I know I speak on behalf of everyone at ECFRS when I say this award is very well-deserved. Congratulations to Terry." 
Throughout his fire service career, Terry served at Clacton, Colchester, Harlow and Dovercourt Fire Stations as well as the Training Department and the Urban Search and Rescue (USAR) team based in Lexden, Colchester. As a Station Manager he worked in Health & Safety, Operations, Emergency Planning and Special Operations. Terry retired earlier this year after 30 years' service, but is still involved in a special operations and national resilience for the fire service. Terry continues to be a member of the UKISAR team and currently has no plans to retire from his role with them.