Fire staff give pawsome names to rescue puppies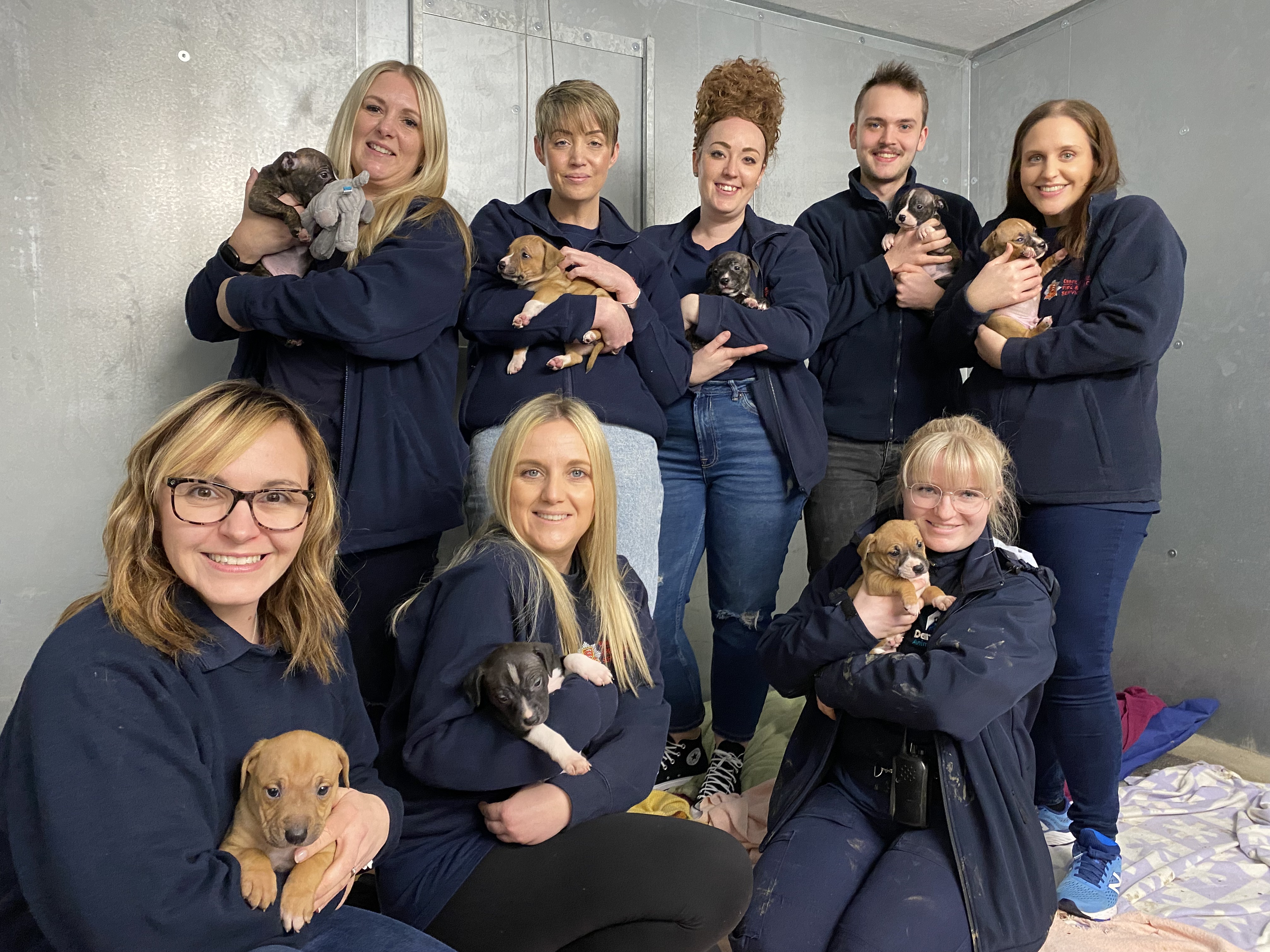 White Watch, a team of Control Operators in Essex County Fire and Rescue Service's Control Room named a litter of eight Staffordshire Bull Terriers at Danaher Animal Home in Braintree.
The puppies have all been given fire themed names - Blaze, Dennis, Ember, Flame, Loki, Phoenix, Sparkie and Smokey - and will be ready for their new homes in a few weeks.
Danaher Animal Home took in Cassie, a 5-year-old Staffordshire Bull Terrier who had been abandoned while pregnant. Cassie gave birth to eight puppies - six boys and two girls - in early February.
The animal rescue launched a competition for the public to name the litter and Crew Manager Claire Bannister entered on behalf of White Watch for the pups to have fire themed names.
Claire said: "We're a team of dog lovers in White Watch and Danaher Animal Home is a charity we hold close to our hearts. When we saw the post on Facebook, we thought they'd really suit fire themed names."
White Watch was picked as the winners and the team was invited to Danaher Animal Home to meet the puppies they'd named.
The team visited on their day off on Tuesday, 7 March armed with lots of toys and treats for the puppies. They had lots of cuddles with the new pups and their mum.
Katie Shilling, Animal Team Leader at Danaher Animal Home said: "It was a very difficult decision to pick names as we had such a huge response from the post and had so many themes to choose from. They were such great names picked out by the fire service team and seemed to be very suitable for our puppies, I just had to pick them!"
White Watch recently helped to rescue Toff, a dog who had ran off after a road traffic collision on the A12. She ran straight to ECFRS' Headquarters where eagle-eyed control staff spotted her. The team kept her safe while crews rescued casualties from the car and she was later reunited with her owners.
Danaher Animal Home is a registered charity based in Wethersfield that takes in hundreds of lost, abandoned or ill-treated animals each year. It is affiliated to the RSPCA but the Danaher Animal Home is an independent charity entirely responsible for raising its own funds.
If you would like to help Danaher Animal Home in its work, visit: danaheranimalhome.org.uk/help-us