Essex Fire Officers home from Turkey deployment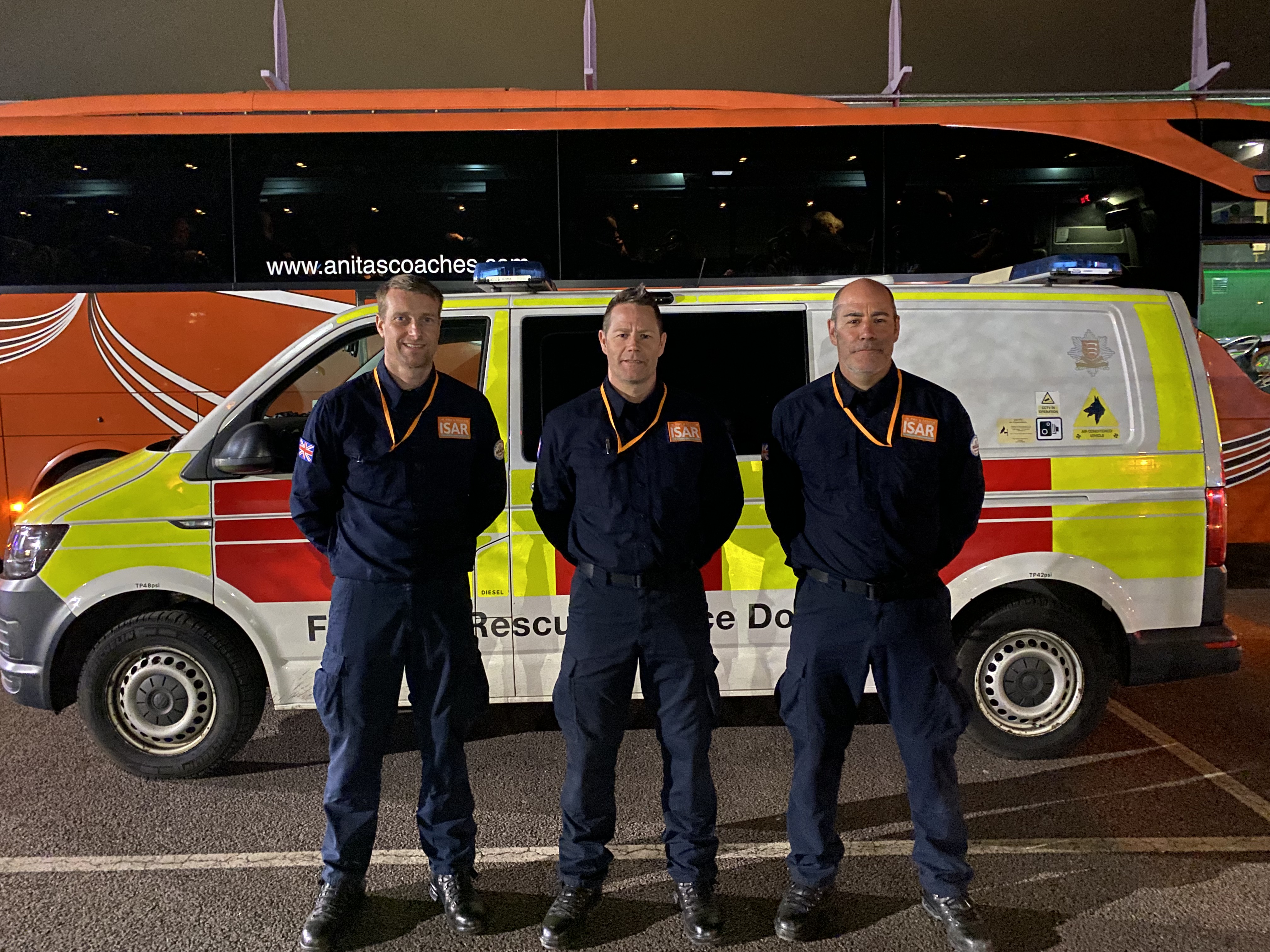 Three fire officers from Essex County Fire and Rescue Service (ECFRS) who flew out to Turkey following the devastating earthquakes are home having spent eight days working day and night to help find survivors. 
Group Manager Scott Meekings, Crew Manager Bryn Jones and Watch Manager Steve Smith are volunteer members of the UK International Search and Rescue (UKISAR) team who were deployed to Turkey to help with the search and rescue mission. 
The three officers were part of a 77-strong team which is made up of firefighters and staff from 14 fire and rescue services, deployed through the Foreign, Commonwealth and Development Office (FCDO). 
Speaking about when the team were notified of the deployment, Scott Meekings said:  
"When we got the call it was hard to know what to expect. We were following the news, but we just wanted to get out there and get to work. All we knew was people needed rescuing and time was ticking." 
Once they landed, the team set up their camp in record time. They came completely self-sufficient so that they wouldn't be a burden and could survive off their own rations and resources for up to two weeks. 
The team quickly got their equipment organised and got straight into the affected areas, going off local intelligence and even text messages from survivors in collapsed buildings. 
Bryn Jones said:  
"The dogs were our first port of call. They would be sent over huge mountains of rubble to find signs of life. And they were always on point. Once they indicated there was someone alive, we would get to work digging them out."  
Recalling the scene that met them when they arrived in Turkey, Scott Meekings said:  
"It's nothing like anything you have seen before. The devastation and destruction and what the local communities are now facing is unimaginable.  
"Everyone is now living on the streets and it's freezing cold. The conditions are awful.  
"It was so hard when we were assigned specific areas or buildings but as we were walking through the town, people were pleading with us to follow them as they believed their family members or friends were still alive in the rubble. The whole time we felt the clock ticking. We knew we needed to try and rescue as many people in the little time we had." 
Steve Smith added:  
"It was truly horrific. Nothing can prepare you for seeing mothers walking down the street carrying their deceased children in their arms, my heart absolutely breaks for them". 
To make things even harder for the team, they suffered frustrating issues with their communications technology. Phone networks were down, satellite phones were hit or miss and signal for mobiles and fireground radios were patchy at best.  
However, one rescue came after they were shown a video message which had miraculously got through. Bryn Jones recalls the rescue:  
"A young lad had shown us a video message from his father who was trapped in his apartment. He showed us to the building and we got to work digging him out. It took eight hours in total to get him out and was a difficult rescue, but we had medics who were able to give the man immediate life-saving care right there. He was then taken to hospital by the Turkish Ambulance Service." 
Scott Meekings also recalls another rescue where a police officer and local person were trapped in a ten-storey hotel that had completely collapsed. This rescue was made even more difficult due to an interruption by a frightening evacuation: 
"We received information from a local police officer that their colleague and another person was trapped in a ten-storey hotel which had completely collapsed.  
"We found a way to get in and under the hotel and found a central staircase which was damaged but we found a way to climb through it. When we thought we were getting close, Steve shouted out and a voice came back.  
"When we knew roughly where they were, we found the safest way to get into the building was to go into the building next door which was still standing. We knew we had two people alive on the second floor so we set to work digging with shovels and at times our care hands to reach them.  
"All of a sudden during the rescue we felt tremors under our feet. Warning whistles were blown and we knew that was our sign to evacuate quickly.  
"We had already experienced a number of tremors but this was different. When we made our way outside we were met with an immense noise of screaming and the rumble and thunder of thousands of people running. The whole city was running past us, and we had police and military shouting at us to run because a dam had burst and we were about to be wiped out. 
"It was the most frightening experience of my life." 
Steve Smith continues with the story:  
"Once we got to high ground and made sure everyone was safe, we found out the report was malicious, and we could all return to where we had come from. We couldn't believe someone would do this when every minute counts, but we didn't have time to think about it then. All we wanted to do was get back to the two people who would have heard a commotion and might have thought we had left them. 
"As soon as we got back we shouted to them that we were there and we were going to rescue them." 
Scott added:  
"After digging again, we handed over to the other team to keep digging. It was now 2am and we had been working since early in the morning.  
"An hour or so later they found the two survivors. This was five days after the earthquake – they hadn't had any food or drink and there wasn't much air. How incredible the human body is to survive that." 
Steve recalls the moment he found out the two people were rescued and were alive: 
"We were back at the camp and when the news came in that the two people had been rescued and alive, I was very emotional. I had to take a few moments to myself to process that and compose myself ready to go back out again.  
The team flew home on Wednesday 15 February to Stansted Airport. They were greeted by ECFRS Chief Fire Officer Rick Hylton and NFCC Chair Mark Hardingham. 
Rick Hylton said:  
"I'd like to thank the team for everything that they've done for both the Turkish government and for the people of Turkey and Syria.  
"I can only imagine what they've been through and what they've seen. What I don't have to imagine is their sheer determination and hard work and the difference they've made.  
"They have done themselves and UK Fire and Rescue Services proud." 
It was an emotional home coming following an emotional deployment.  
Bryn Jones added:  
"We took on a lot of emotion in that week, but we've been continuously offered support. Only the 77 of us know what we have been through so we will be connected for life. 
"At the end of the day we know deep down that we did everything we could to save as many lives as possible." 
Scott adds:  
"We'll process it individually. So many people have reached out to us and offered to talk. I like to process it quietly and then talk it through when I am ready. But I know we have each other to talk to as well." 
Bryn adds: 
"As firefighters we are used to seeing trauma but not in such succession and affecting so many people. Thankfully most of my colleagues won't see this type of incident in their whole career. 
"It was emotional, draining and intense. When we had to give bad news to families waiting to see if their loved ones were still alive, we felt completely helpless. At one point a young boy had been told his father didn't make it. I didn't speak his language so I couldn't say anything to make him feel better, so I hugged him and we held each other. I feel so sorry for the people of Turkey." 
Steve wanted to add a thanks to his supportive family at home: 
"We shouldn't forget that while we are out there our families are at home watching the news and not hearing from us regularly as our signal was not great. It was really hard for our families, but we were thankful for every time we could get contact and let them know we were ok. 
"At the end of the day, we did put our lives at risk, we do that in our day job too, but it was another level over there. We were crawling through tunnels with beams of broken concrete hanging over us, if we had been hit by aftershocks at the wrong time then it could have been fatal." 
The team wanted to finish by making sure everyone involved in the deployment and the wider ISAR team were thanked. The team members who supporting from home made the deployment possible. 
The UKISAR team successfully rescued eight survivors and passed intel for three more rescues to other local rescue teams. 
In total there was 90 International search and rescue teams who helped save 211 people who would not been here if it wasn't for the selfless bravery of these teams. 
Our USAR team talk about what they were greeted with in Turkey following devastating earthquakes
Watch the team talk abotu what it felt like when they arrived in Turkey