Celebrations as Shoeburyness opens refurbished fire station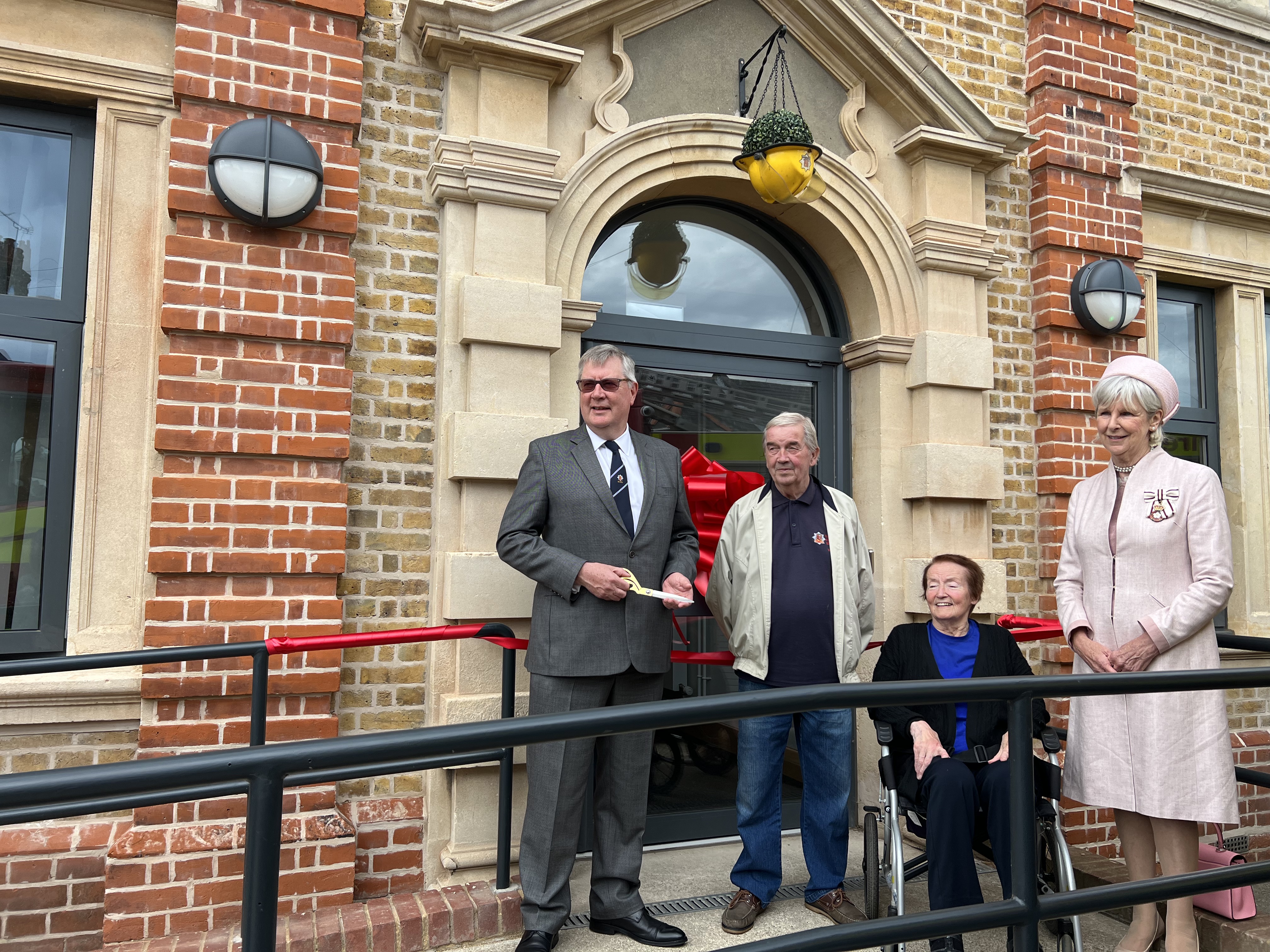 Shoeburyness' on-call firefighters have officially started using their newly refurbished fire station. 
Roger Hirst, Police, Fire and Crime Commissioner for Essex, local resident Anne Chalk and retired firefighter Brian Jacobs officially reopened the building following the work to create a modern space fit for the crew. 
They were joined by His Majesty's Lord Lieutenant of Essex is Mrs Jennifer Tolhurst, Southend Mayor Councillor Stephen Habermel, the High Sheriff of Essex Charles Bishop and MP for Rochford & Southend East Sir James Duddridge.
Building work began on the site in Shoebury Avenue in early 2022, after Essex County Fire and Rescue Service bought the old police station next door and knocked through the two buildings to create one larger space. 
Shoeburyness' crew was involved from the initial concept meeting and have had the chance to input their views and ideas throughout the process. 
Previously firefighters had to use portable toilets and washing facilities and the building itself could be likened to a small Scout hut. The fire station was also not able to have a new fire engine as it would not have fitted in the bay.   
While the refurbishment process took place firefighters relocated to a temporary home a mile away at the TreeFella in Wakering Road where they continued to respond to all types of incidents including fires, road traffic collisions and water rescues.   
The surprise discovery of a former bomb shelter under the drill yard presented some complications, although the construction process stayed largely on track. 
The new fire station has meant there is more space for the firefighters and a new fire engine as well as an improvement to wellbeing, training and fitness facilities .   
Watch Manager Ian Lighton, Shoeburyness Fire Station, said: 
"The deteriorating physical condition of the old building was far from ideal for our current crew and off-putting to any potential new recruits. The much-needed improvement not only gives our crew more space but has offered the chance to consider the needs of our community. 
"Our vision is for fire stations to become community hubs. The more closely we work with our communities the safer they are. The refurbished fire station includes much more space for our communities to meet and for us to get to know them." 
Chief Fire Officer Rick Hylton said: 
"Today is a day to thank both our on-call firefighters from Shoeburyness and the community they serve. 
 "Parts of the station date back to the First World War and it has been at the heart of the community for decades. This works shows our long-term commitment to Shoebury and the local area. Our new fire station marks a significant investment ensuring we have state-of-the-art facilities to carry out our work and continue our training. 
"The dedication our on-call firefighters show is incredible. I am delighted that our Service is able to provide these refurbished facilities for them to use; they deserve a modern space that reflects the Service they give so much to. 
"Our thanks must, as always, go to our community whose support means so much. A fire station, particularly an on-call fire station, is a community space and we were so pleased to be able to welcome the public to their local fire station today." 
Police, Fire and Crime Commissioner for Essex, Roger Hirst said; "I am really pleased to see the new, improved fire station at Shoebury. This investment will mean a bigger and more fit for purpose modern space for fire appliances as well as incorporating a hub for the whole community."   
"It also means our on-call firefighters have the facilities they need to continue to deliver an effective service and help keep our communities safe." 
Colchester-based property and construction consultancy Ingleton Wood was appointed to support the development of the new state-of-the-art fire station in Shoeburyness.
The Practice provided multi-disciplinary services including design services, structural design, architectural, mechanical, electrical and plumbing (MEP), and civil engineering. 
Andrew Marchant, Senior Associate and Building Surveyor at Ingleton Wood, said: "The new state-of-the-art station will provide much-needed modern facilities and equipment that will help the fire service carry out their essential work. The site will benefit from improved operational facilities, a new drill and training yard, and the full remodelling of external and internal spaces.
"We have worked in close collaboration with Essex county Fire and Rescue Service for over 20 years, supporting the redevelopment of their fire stations, and were pleased to return to Shoeburyness to improve and modernise the site for years to come."
Shoeburyness is currently recruiting on-call firefighters; people who live or work within five minutes of the fire station and are paid to attend emergencies when needed. If this sounds like something you could do visit join.essex-fire.gov.uk to find out more.   
A tour of Shoeburyness Fire Station
Watch Manager Ian Lighton gives a tour of the newly refurbished Shoeburyness Fire Station